I just got news that Vel­vet Assas­sin has been port­ed over to the Mac and is avail­able on the App Store! How­ev­er, I was not at all involved in the Mac port and I don't know the devel­op­ers who did – it came as a sur­prise to me as to any­one else in the for­mer team. Here is a direct iTunes link: (Edit, no longer avail­able as of 2021, unfortunately).
Shader Bug on ATI graphic cards
Unfor­tu­nate­ly there is a shad­er bug with ATI graph­ics chips. It hap­pened to me while try­ing it out on a 2011 iMac with an ATI Radeon HD 5670. I got reports from friends that this is not a prob­lem of the Mac port itself but it hap­pens on PC too. The prob­lem is relat­ed to ATI chips with dri­vers that are new­er than 2010 or so. Here is a screenshot: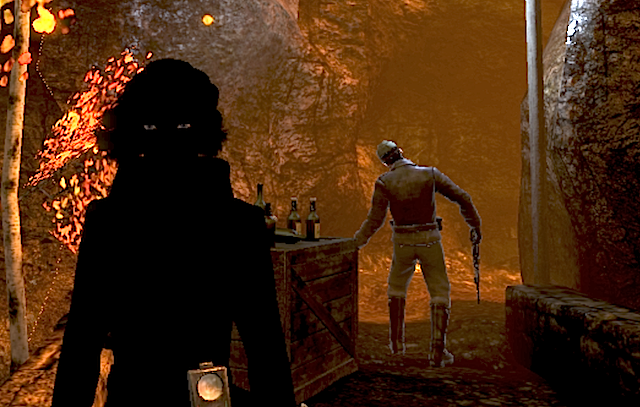 The bug appears as low frame rate and with the main char­ac­ter shad­ed sol­id black, except for eyes and attach­ments. This hints at a numer­i­cal float­ing-point prob­lem con­nect­ed to soft-skin­ning. And indeed, I was able to track down the cul­prit and there are two things happening:
There is a square-root oper­a­tion in the ver­tex shad­er that gen­er­ates NaN, but only when soft-skin­ning is enabled. This is respon­si­ble for the black shad­ing on the characters.
The low frame rate is relat­ed to the address reg­is­ter indi­rec­tion used for soft-skin­ning. The dri­ver is some­how mis-com­pil­ing this code, since the per­for­mance returns to nor­mal when this part is com­ment­ed out (but then, of course, the char­ac­ters are not ani­mat­ed). There is not much that can be done about this with­out a fix from ATI.
Patch
I have made a patch to at least fix the visu­al appear­ance, so the char­ac­ters are no longer black. Unzip the patch and replace the two shad­er files in the Vel­vet Assas­sin data fold­er. On the Mac, this is locat­ed inside the app pack­age, exact­ly here: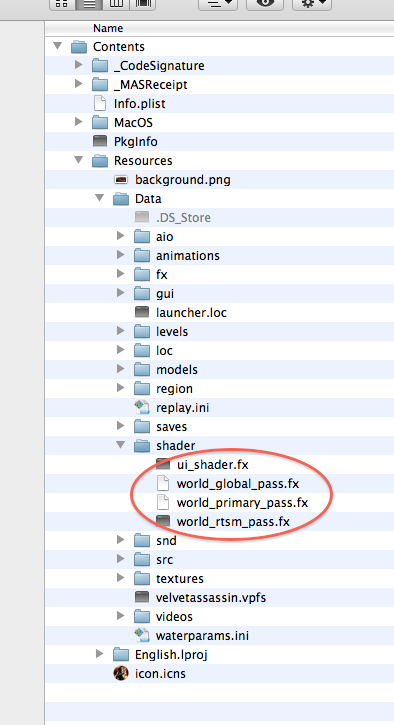 Down­load "Vel­vet Assas­sin Shad­er Fix"
VelvetAssassinShaderFixATI.zip – 18424-mal herun­terge­laden – 12,00 kB
As a side effect, you'll now get to see all the things that I did not have room to write about in the ShaderX book. For all of those who are going to dis­sect the shad­er code, you'll find the fol­low­ing fea­tures in there:
Algo­rith­mic anti-alias­ing of spec­u­lar high­lights (and envi­ron­ment maps too), when high qual­i­ty is select­ed. It is done via a heuris­tic that low­ers the mate­r­i­al glossi­ness depen­dent on the ddx/ddy of the nor­mal, so both nor­mal-map per­tu­ba­tion and fine geom­e­try is tak­en into account.
Envi­ron­ment maps are inte­grat­ed in the shad­ing mod­el, with auto­mat­ic selec­tion of a mip lev­el that cor­re­sponds to the size of spec­u­lar highlight.
Two modes of alpha-trans­paren­cy: One mode to be used as a trans­par­ent but sol­id sur­face (like glass), then the spec­u­lar reflec­tion is not mod­i­fied by the alpha val­ue; and anoth­er mode for alpha as a cov­er­age val­ue (for instance when fad­ing-out strands of hair) so the spec­u­lar reflec­tion must be atten­u­at­ed too.
Lots of gam­ma/de-gam­ma magic.
Enjoy!